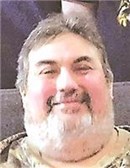 Michael L. "Mike" Happel, age 55, of Sturgis, passed away Monday, Feb. 4, 2019, at Borgess Medical Center in Kalamazoo.
He was born Nov. 2, 1963, in Sturgis, a son of Lee G. and Judith E. (Abbs) Happel.
Michael was a graduate of Burr Oak High School with the class of 1982.
He continued his education and graduated from Michigan State University with a degree in agriculture.
He was a resident of Sturgis all his life and worked on the family farm with his father and brothers. He also was an excellent caregiver for his father these past few years after the death of his mother.
Mike enjoyed collecting anything to do with farming: old tractors, combines, pedal tractors, toys, etc. He was involved with 4-H growing up and continued to support his nieces and nephews with 4-H and attending their sporting events. He also enjoyed cooking and baking.
Surviving are his father, Lee G. Happel of Sturgis; two brothers, Mark (Bianca) Happel and Martin (Sally) Happel; a sister, Susan Happel, all of Sturgis; nieces and nephews Jenna, Kaitlin, Matthew, Lee, Olivia, Grant, Myra and Benson; and a great-niece, Madison.
He was preceded in death by his mother, Judith "Judi" Happel, on Feb. 25, 2017.
The family will receive friends and relatives from 4 to 7 p.m. Thursday at Rosenberg Chapel of Hackman Family Funeral Homes, 807 E. Chicago Road, Sturgis.
Services celebrating the life of Michael "Mike" Happel will be held at 11 a.m. Friday at the funeral home, with Pastor Mike Cary of Spring Life Church in Parma officiating. Interment and graveside service will follow in Burr Oak Cemetery.
Memorial donations may be directed to the 4-H youth livestock program. Eenvelopes are available at the funeral home.