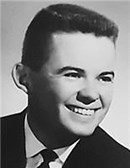 Raymond Andrew Morrisson, age 83, of Otsego, passed away Monday, Feb. 11, 2019, at Wings Home in Allegan.
Born Dec. 27, 1935, in LaGrange, he was a son of the late Jesse Paul and Ruby Belle (Woodworth) Morrisson and was husband of Marilyn Geneene (Hoot) Morrisson. Mr. Morrisson was the longtime band and orchestra director for Sturgis Public Schools and was a member of the Michigan School Band and Orchestra Association. He was a self-proclaimed "car buff" and belonged to The MG Club. Mr. Morrisson also enjoyed hunting and fishing. He kept himself busy in retirement by working on various carpentry jobs around the house.
In addition to his wife of more than 60 years, Mr. Morrisson is survived by his children, Lon Morrisson, Harmonee Layne Costello and Brent Voix Morrisson; sisters Jean Hart and Judy Mundt; seven grandchildren; and two great-grandchildren.
Along with his parents, he was preceded in death by a brother, Hubert "Chub" Morrisson; and a sister, Norma Rice.
The family will receive friends 11 a.m. to 1 p.m. Saturday, Feb. 16, 2019, at Gorden Funeral Residence, Allegan Chapel, where a celebration of life will begin at 1 p.m.