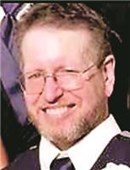 Rodney Joseph Taylor, age 60, of Mendon, died Wednesday, Feb. 27, 2019 after the most courageous and strongest fight against Muscular Dystrophy. He was born in Three Rivers on March 30, 1958 the son of Robert V. and Sallyann M. (Vorac) Taylor and was a lifetime resident of Mendon. He graduated from Mendon High School in 1976 where he played the saxophone in the jazz band. He received his Associate's Degree from Glen Oaks Community College in 1978. Rodney married the love of his life, Susan Kaye Hahn on Jan. 20, 1979 after proposing to her under an elm tree on the family farm.
Rodney was a farmer and established a pallet recycling business. He enjoyed all genres of music, reading Biblical, historical, fiction and biographies. He designed special use items for the farm and home. He enjoyed going on adventures around the farm with grandsons, Robby and Rodney, and attended over 100 concerts with his family. Rodney volunteered with the Boy Scouts, the annual MDA Telethon, and as a trustee at St. Paul Lutheran Church in Colon.
Rodney is survived by his wife, Susan; three children, Joseph Kevin Taylor, Jessica-Ann Hahn Hempel (Robert), Stephanie Alea Searles (Norman); two grandchildren, Robert Lee Hempel and Rodney Joseph Hempel; his mother, Sallyann Taylor; and several nieces and nephews. He was preceded in death by his father, Robert Taylor; and by two brothers, Stanley and Edward Taylor.
The family will receive friends from 2 to 5 pm Sunday at the Eickhoff Funeral Home in Mendon. Funeral services will be at 11 am Monday, March 4, 2019 at the funeral home with Rev. David Grimm, Pastor of St. Paul Lutheran Church officiating. Interment will be in Mendon Cemetery. Memorial contributions will be directed to the family. Condolences may be expressed to the family online at www.eickhofffuneralhome.com