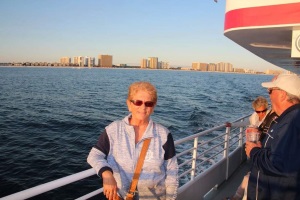 Martha Taylor, age 72, formerly of Marcellus passed away on Monday, March 25, 2019. She and her husband Ron, were snowbirds for the last 4 years in Destin, Florida.
Martha was born in Albion on January 31, 1947, the daughter of Rev. Kenneth Jacobs, Sr. and Louise Owen Jacobs. Martha graduated from Marcellus High School in 1965 and resided in Marcellus until she married Ronald Taylor on March 28, 2001.
Martha worked for Cass County Sheriff Department, Three Rivers Police Department, and retired from St. Joseph County Central Dispatch in 2012, where she had worked for over 20 years. She was a member of the Fraternal Order of the Eagles Women's Auxillary in Portage/Schoolcraft.
Along with her loving husband, Martha is survived by her son John (Kathi) Carney of Sturgis, daughters Amy (Brian) Taylor Johnson and Jennifer Johnson both of Vicksburg. Her sister Faith (Mike) Harris of Marcellus, brother Andrew (Pam) Jacobs of Niles, 9 grandchildren; Jayson Wallace, Dru Carney, Kristopher Leeder, Sam Carney, Benjamin, Cloe, Lucas, Jaidyn and Brady Johnson, 14 Great-Grandchildren, and many cousins, nieces and nephews.
Martha was preceded in death by her parents Kenneth and Louise Jacobs, two brothers James Jacobs and Kenneth Jacobs, Jr., and a sister Ruth Jacobs.
The family would like to welcome friends to Mater-Ralston Funeral Home, Marcellus for visitation on Monday, April 1, 2019, from 4pm until 7pm, with the funeral service to be held on Tuesday, April 2, 2019, at 11am with burial to follow at Poe's Cemetery. Memorial donations may be directed to the Eagles Club 3531 Ladies Auxiliary in Portage/Schoolcraft. Online condolences may be left at www.materralstonfuneralhome.com.