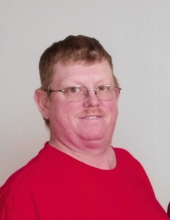 Scott Allen "Opie" Long, age 49, of Sturgis, passed away Wednesday, February 27, 2019 at his home.
He was born May 14, 1969 in Sturgis, son of James Homer and Sharon (Schroeder) Long.
Scott was a lifelong Sturgis resident and a graduate of Sturgis High School with the class of 1987.
For the past several years he had been employed by ACM Plastics in Sturgis as a set up and maintenance man. Prior to joining ACM Plastics he had worked as a Molding Foreman at Midwest Plastics and Engineering also in Sturgis.
He was a member of Sons of the American Legion Post #215 in LaGrange, Captain John J. Kelley Post #1355 VFW Auxiliary and the Eagles Lodge #1314 both in Sturgis. He enjoyed hunting and fishing and time spent with friends and family. Scott loved cooking chicken dinners at the American Legion Post #215 and the Eagles Lodge events.
He is survived by his parents: James and Sharon Long of Sturgis; two sisters: Lori Simonds of Portage and Lisa (John) Fisher of Schoolcraft; one niece: Abbie Simonds and two nephews: Alec Simonds and Peyton Fisher and several aunts, uncles and cousins.
In accordance with his wishes cremation has taken place. The family will receive friends from 10:00 to 11:00 A.M. Friday, March 8th at the Hackman Chapel of Hackman Family Funeral Homes, 114 S. Nottawa St., Sturgis, MI 49091, 269-651-2331 where a memorial service celebrating the life of Scott Allen Long will begin at 11:00 A.M. Friday, March 8th. The Rev. Darin Warnecke of the St. John's Lutheran Church of Sturgis will officiate. A graveside committal and burial of the ashes will follow the service at Oak Lawn Cemetery in Sturgis.
The family suggests those wishing to make a memorial donation in Scott's memory consider the Eagles Lodge #1314, 1207 W. Chicago Rd., Sturgis, MI 49091 or American Legion Post #215, 100 Industrial Parkway, LaGrange, IN 46761.
The obituary is also at www.hackmanfamilyfuneralhomes.com where personal messages of support may be left for the family.