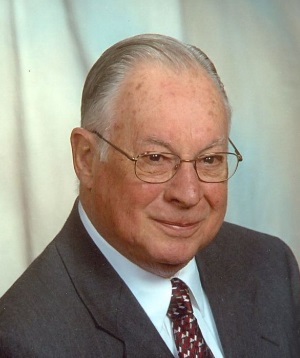 Dr. Jerry Irwin, died on Friday, April 5, 2018 at age 87.
He was born in Three Rivers, to his parents, Marlo (Jack) and Mary Ellen Irwin. He was preceded in death by them; his brother, Robert Irwin and a granddaughter, Josephine Irwin. He is survived by his wife of 63 years,  Martha Ann;  his son, Michael (Sunny) Irwin; his daughter, Laura (John) Stevenson; grandchildren, Claire (Wilhelm) Siebert, Rebecca (Kyle) Glancy, Nathaniel Irwin, Natalie Stevenson and great grandchild Remington Siebert.
Jerry received his M.D. degree from Wayne State University and undergraduate degree from the University of Michigan. He served in the Air Force and began private practice in 1965 in Grand Rapids. Dr Irwin founded the Urology Residency Program at Butterworth Hospital and established several local urology clinics for resident training. He performed the first extracorporeal shock wave lithotripsy and the first percutaneous ultrasonic nephrolithotripsy at Butterworth Hospital. Jerry was honored with membership into the Distinguished Physicians Society of Spectrum Hospital in Grand Rapids. He was a member of the Shriners and Elks fraternal organizations. Jerry enjoyed sailing, coin collecting, trap shooting, music, genealogy and summers at the cottage.
In lieu of flowers, contributions may be made to Spectrum Health Foundation, Medical Education Resident Education. https://give.spectrumhealth.org/.
A Memorial Service will be held Sunday, May 5 with a visitation at 1:00 p.m., followed by the  2:00 p.m. service at O'Brien-Eggebeen-Gerst Chapel, 3980 Cascade Rd, S.E., Grand Rapids, MI. Interment will take place at a later date at Riverside Cemetery in Three Rivers.