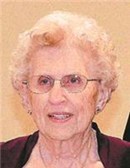 Estella Marie Holtz, age 91, of Sturgis, passed away early Tuesday morning, April 16, 2019, at her home.
She was born Dec. 5, 1927, in Sturgis, a daughter of the late Clarence and Maize (Dunker) Hahn.
Estella was a lifelong Sturgis resident and a graduate of Sturgis High School with the class of 1945.
On Dec. 30, 1950, she married Dale M. Holtz at Trinity Lutheran Church in Sturgis.
She had been employed by Kirsch Company in Sturgis, Sturges-Young Auditorium and delivered newspapers for the Sturgis Journal. Her true calling in life was being the dedicated wife, mother, grandmother and homemaker that she was.
She was an active, longtime member of Trinity Lutheran Church in Sturgis. Estella truly loved serving her church and community and always found time to help others. Her greatest joy in life were times surrounded by her family.
She is survived by three sons, Robert (Donna) Holtz of Sturgis, Brent (Deb) Holtz of Mattawan and Glenn Holtz of Sturgis; seven grandchildren, Karrie (Bill) Brand and Robert (Stephanie) Brand, both of North Carolina, Melissa (Luis) Figueroa of Nazareth, Pa., Michael (Iris) Holtz of White Pigeon, Stacy (Keith) Cantrell of Elkhart, Ind., and Katie (Andy) Broker and Keith (Bethany) Taylor, both of Centreville; 14 great-grandchildren; a sister, Cora Studeman of Sturgis; a brother, Ray (Melva) Hahn of Howe, Ind., and many nieces and nephews.
She was preceded in death by her parents; her husband; a daughter, Nancy Holtz; and four brothers, Roy, Edward, Earl and Ernest Hahn.
The family will receive friends from 5 to 8 p.m. Thursday at Hackman Chapel of Hackman Family Funeral Homes, 114 S. Nottawa St., Sturgis. Funeral services celebrating the life of Estella Marie Holtz will be held at 10 a.m. Friday at Trinity Lutheran Church in Sturgis. The Rev. Calvin Kolzow will officiate. A graveside committal will follow the service at Oak Lawn Cemetery in Sturgis.
The family suggests those wishing to make a memorial donation in Mrs. Holtz's memory consider Trinity Lutheran Church, 406 S. Lakeview Ave., Sturgis, MI 49091.
Her obituary is also at www.hackmanfamilyfuneralhomes.com, where personal messages of support may be left for the family.