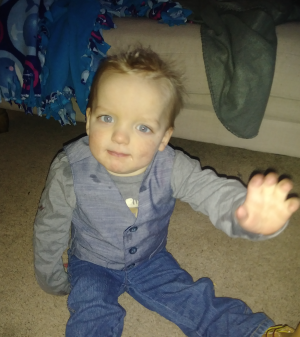 Henry Jamison Erdos, 23 months old, of Constantine, passed away on Saturday, April 6, 2019 at Bronson Methodist Hospital in Kalamazoo following a year long illness.  He was born on April 18, 2017 in Three Rivers, a son of James "Joe" and Sarah (Richards) Erdos.
Henry loved listening to music and playing with his sister, whom he absolutely adored.  He loved looking out the window, popcorn, and making kissy faces at everyone he knew and met.  He was an absolute joy, always having a smile on his face and laughing as much as possible.  His favorite thing was watching the show 'Googoo' with his daddy.
Surviving Henry are his parents Joe and Sarah Erdos of Constantine, sister Elaina Erdos, grandparents Marifrances Keiser of Constantine, Debra Kay Erdos of Schoolcraft, and Timothy (Sue) Dehaan of Allegan, and several aunts, uncles, and cousins.
He was preceded in death by his grandfathers Larry Keiser and James Thomas Erdos.
According to the family's wishes, cremation has taken place.  A luncheon in honor of Henry will be held on Saturday, April 13 from 2 to 4 PM at the First Presbyterian Church Westminster Hall (224 E. Cass St., Schoolcraft, MI 49087).
Arrangements were entrusted to Eley Funeral Home, Constantine.  Online messages may be left for the family at www.eleyfuneralhomes.com.