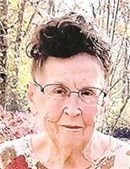 Mary E. Schwartz, age 89, of Colon, went home to be with the Lord on Monday, April 15, 2019.
Mary was born Nov. 20, 1929, to the late Christian and Emily (Schwartz) Stauffer.
On Dec. 11, 1947, she married Samuel S. Schwartz, who preceded her in death in 1987. Together, they had 11 children.
A generous lady who lived life to the full, Mary was also a remarkable hostess and cook. She enjoyed preparing meals for her family, friends and church. She was a talented lady and she lived her life with a passion and a purpose. She always had a song in her heart and loved to play music and sing. Mary was a member at Pine Grove Mennonite Church and was a woman of strong faith in Jesus Christ. Her family is forever grateful for her life.
Mary is survived by 11 children, Thomas (Leanell) Schwartz of Battle Creek, Sheryl (Fred) Miller of Fort Wayne, Linda (Rex) Thornburgh of Sturgis, Dr. Gary Schwartz of Smyrna, Tenn, Ardis (Glenn) Middleton of Sturgis, Debra Greenwald of Leonidas, Jaynie (Joseph) Schlabach of Colon, Tony (Robyn) Schwartz of Marcellus, Sheila (Jeff) Thrams of Canton, Ohio, Shelley (Brett) Brandys of Wellston, Rhonda (Kip) Miller of Colon; 31 grandchildren, 10 step-grandchildren, 40 great-grandchildren and two great-great-grandchildren. In addition, Mary is survived by many loving cousins, nieces and nephews, whom she adored.
She was preceded in death by a son-in-law, Garth Greenwald, and her siblings; five brothers, Amos, Christopher, Menno, Freeman and Donald Stauffer. and three sisters, Sally Zehr, Katherine Wilcox and Virginia Stauffer.
The family will receive relatives and friends from 2 to 8 p.m. Thursday, April 18, at Schipper Funeral Home in Colon. A graveside service and burial will take place at 10 a.m. Friday, April 19, at Locust Grove Cemetery. A memorial service celebrating the life of Mary E. Schwartz will take place at 11 a.m. Friday at Locust Grove Mennonite Church, Burr Oak, with Pastor Tom Schwartz officiating. A luncheon is to follow at the fellowship hall.
Memorial donations in memory of Mary E. Schwartz may be made to "Growing Hope Globally." Envelopes will be provided, or you may donate online at www.growinghopeglobally.org.