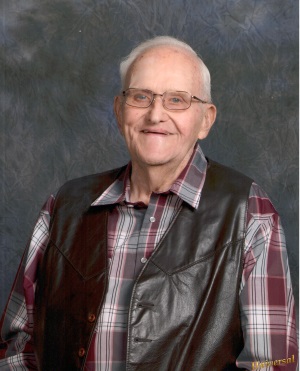 Robert C. King, age 90 of Porter Twp., passed away at home on Saturday, April 20, 2019.  Robert was born in Porter Township, Cass County, on December 21, 1928, a son of Carl and Bernice (Artley) King.  He graduated from Bristol High School in 1949 and went on to serve in the Army during the Korean War.
On December 15, 1951, he married Peggy Leister in Constantine; she preceded him in death on March 27, 2015.  Robert was a farmer for his entire life and enjoyed seeing how technology changed the industry over the decades.  He enjoyed visiting with his neighbors and family, driving around to see the crops, and loved to "supervise and consult" his boys on the farm.  He was a member of the Bristol United Methodist Church.
Robert is survived by his children Brenda (David) Bell, Vicki (Lonnie) Freshour, Gary (Marla) King, and Robert (Monica) King, all of White Pigeon; grandchildren Angela (Jeff) Happner, Kathy King, Rachel (Andy) Peters, Robert J. King, Luke King, Zach King, Eric (Brittany) King, Kelly (Sam) Davis, Kara Freshour, and Arica Freshour; great grandchildren Gabriel, Hannah, Lily, Isaiah, Elena, Ava, Wesley, Gabe, Marc, Noah, Avery, Tucker, Bristol, and Grady; and several nieces and nephews.
He was preceded in death by his wife, parents, son Gregory King, twin brother William King, and sisters Lois Kugler and Eleanor Hemminger.
Relatives and friends will be received Wednesday from 2 to 8PM at Eley Funeral Home, Constantine.  Religious services will be held on Thursday at 11AM at Bristol United Methodist Church, Pastor Gary Lewis officiating.  Interment will be in Mottville Cemetery at 1:30PM.  Memorial contributions can be given to church.  Online condolences may be left for the family atwww.eleyfuneralhomes.com.