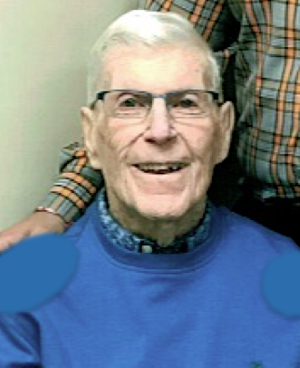 Sherman Dunafin, Jr., age 95 of Sturgis, passed away peacefully after an extended illness on December 12, 2018 at his home surrounded by his loving family.  He was born on January 4, 1923 in the Mongo-Stroh area in Indiana.
Sherman is survived by his wife of 46 years, Marilyn (Smoll) Dunafin, of Sturgis.  He had 4 children: Gaylord (Cheryl) Dunafin of Sturgis and Patrick Dunafin (Emily Pirronello) of Evanston, IL, step-children Stacey Lahman (Jeff Fuller) of Centreville and Shane Schrader of Paw Paw; 8 grandchildren Curtis Dunafin of LeRoy, IL, Brandon Lahman of Westminster, MD, Derek Lahman of Yale, MI, Dustin Lahman of Sterling Heights, Ian Lahman of Three Rivers, Blaine Lahman of Conroe, IN, Elizabeth Cook of Angola, and Danielle White of Centreville; and 15 great grandchildren. Sherman's brother Dennis Brumbaugh of Ft. Wayne, also survives.
There will be a memorial service celebrating and honoring the life of Sherman on Saturday, April 27 at 3PM at St. Paul's Lutheran Church, Centreville.  Immediately following the service, there will be a luncheon for the gathering of friends and family.
Memorial contributions can be given in Sherman's honor to Mark 10:13 Early Childhood Center at St. Paul's Lutheran Church.
Arrangements were entrusted to Eley Funeral Home, Centreville.  Online condolences may be left for the family at www.eleyfuneralhomes.com.