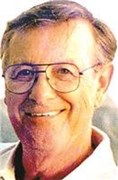 Walter G. Philo, age 87, of Colon, passed away peacefully Wednesday, Feb. 27, 2019, at Drews Place in Coldwater, after several years of failing health.
Walter, better known as "Gib," was born in Union City, a son of the late John Walter and Dorothy (Woldring) Philo. He graduated from Colon High School and, following military service, attended barber school. In 1955, he married Ardis Philo. She preceded him in death.
Surviving are a son, John; a daughter, Sharron, and son-in-law, Mike; and two nephews.
Gib enlisted with the U.S. Army and served as a medic in the Korean War. He was honorably discharged in 1954. Like his father, he became a barber and went on to own and operate Philo's Barbershop in Colon for nearly 40 years. He was a former zoning inspector for the village of Colon and a member of Colon American Legion and Colon Masonic Lodge. He was an avid golfer and enjoyed gardening and wintering in Florida.
Family and friends will be received from 10 to 11 a.m. Tuesday, April 16, at St. Barbara's Catholic Church in Colon. A memorial mass will be held at 11 a.m. on that same day, followed by lunch at the church.
In lieu of flowers, the family suggests memorials be made to St. Barbara's Catholic Church or Colon American Legion. Envelopes are available at the service.