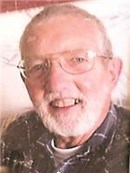 Alvin Ray "Al" Clark, Jr., age 88, of Leonidas, died Thursday, May 9, 2019 at his home. He was born in Three Rivers on Oct. 5, 1930 the son of Alvin Ray and Lucille Violet (Hagalgans) Clark. He worked on area farms beginning at the age of 12. After graduation from Centreville High School in 1948 he went to work at the Haas Corporation in Mendon. While working there he continued his education and became an Industrial Engineer, all while continuing to work his grandfather's farm. He later purchased an 80-acre farm in 1959 near Leonidas known as Clark's Prairieview Farm. This later later grew to 600 acres and became his full-time job in 1973.
Al was married to C. Ann Miller on January 1, 1950, and she passed away after 35 years of marriage in 1985. Al married Marcia Kay Nelligan on Jan. 11, 1986, and they were married 25 years until her passing in 2011.
Al is survived by a daughter, Vickie Ruddock of Leonidas; step-daughters and their families, Denise (Mike) Baker of Jonesville and Sheree (Jack) Gibbs of Hillsdale; six grandchildren, Scott Kent, Dawn (Kevin) Pant, Heather Wordelman, Shawn (Francine) Ruddock, Abraham Clark, and Jade Halama; seventeen great-grandchildren; six great-great grandchildren; brothers in law, Dewey (Susie) Miller and Alfred (Donna) Miller; nieces, Jeri Cardella, Shelley Miller and several others. He was preceded in death by his parents; two wives; two sons, Steven H. and Michael A. Clark; daughter in law, Kimberly S. Clark; sister, Virginia Moore; great-great-grandson, Trevor Allen Kent; son in law, Nicholas "Nick" Ruddock; and nephew, Steve Quake.
The family will receive friends from 1 to 3 pm on Thursday, May 16, 2019 at the Eickhoff Funeral Home Mendon. Funeral services will begin at 3 pm on Thursday at the funeral home with Rev. Clint Zehr officiating. Those attending are encouraged to wear farm attire. Burial will be in Leonidas Cemetery. Memorials may be directed to The Branch County Career Center's FFA Program. Condolences may be expressed to the family at www.eickhofffuneralhome.com