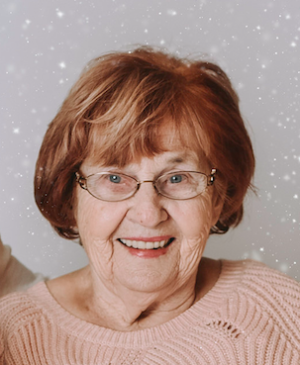 Betty Jane Wallace, age 91, of Three Rivers, formerly of Centreville, died on Wednesday, May 8, 2019 at her home, She was born November 7, 1927 in Coldwater, a daughter of George and Myrtle (Raymond) Carpenter. Betty attended school in Bronson, MI. On January 22, 1945 she married George Wallace in San Diego, CA. He preceded her in death February 28, 1996.
Betty retired from Kirsch Co. in Sturgis in 1982 after 32 years of service in the packing and assembly departments. She was a long time owner of trotter and pacer horses and enjoyed attending the race tracks and County Fairs. Betty loved sports especially watching her grandchildren. She was known as the family chef and cherished her grand and great grandchildren.
Surviving are her son George Terry (Barbara) Wallace, Three Rivers, daughter Deborah Yunker, Three Rivers, grandchildren Raymond Strong, Keith Strong, Carrie (Ryan Kramer) Yunker, Danielle (David) Bent, Chad (Elizabeth) Yunker, great grandchildren Jamaall Black, Mackenzie and Hannah Overton, Gavin, Grayson and Griffynn Bent, Mason, Marshall and Maddox Yunker, great great grandchildren Aydin, Jathaniel and Jake Black and several nieces and nephews.
She was preceded in death by her parents, husband, sister Myrtle Louise McKinley, sister in law Irene Carpenter, four brothers Raymond, Louis, Wayne and Robert Carpenter.
Relatives and friends will be received Monday from 2 to 4 and 6 to 8pm at Eley Funeral Home in Centreville.
Religious services will be held at 11 am Tuesday at the funeral home with Bishop Tony Thomas, Christ Temple Church officiating. Interment will be in Prairie River Cemetery, Centreville. Following the burial friends are invited to join the family at the "Local" in Centreville to celebrate Betty's life.
Memorial contributions may be directed to the St. Joseph County Commission on Aging, as well as the St. Joseph County Animal Rescue Fund.
Online messages may be left for the family at www.eleyfuneralhomes.com.