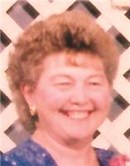 Dixie L. Melchi, age 77, of Sturgis, passed away Wednesday morning, May 22, 2019, at her home, with her family at her side.
She was born Sept. 11, 1941, in Sturgis, a daughter of the late Kenneth and Irene (Abbs) Thompson.
Dixie resided in Mattawan for 30 years. The rest of her life was lived in Sturgis, where she was a graduate of Sturgis High School with the class of 1959.
In 1962, she married Edward Melchi in Sturgis. The marriage ended in divorce, but they forever remained best friends. He preceded her in death.
Dixie's entire working life was in the banking business. Her career began at First National Bank in Sturgis when she was a senior in high school.
While living in Mattawan, she was a member of St. John Bosco Catholic Church. For many years, she was a league bowler. Dixie loved time with her family, especially her grandchildren and great-grandchild.
She is survived by two daughters, Kelly Melchi and Kathy Melchi, both of Sturgis; a son-in-law, Mike Orban of Sturgis; three grandchildren, Trey Orban, Tori Orban and Austin Haley; a great-grandchild, Ashton Kidd; a sister, Linda Sites of Sturgis; and several nieces and nephews, including Penny Frailey of Coldwater and Laurie Ireland of Colon.
The family will receive friends from 3 to 5 p.m. Tuesday at Rosenberg Chapel of Hackman Family Funeral Homes, 807 E. Chicago Road, Sturgis. Funeral services celebrating the life of Dixie L. Melchi will begin at 5 p.m. Tuesday. The Rev. Rodger Moyer of Sturgis Evangelical Church will officiate. Cremation will follow services. A continued time of fellowship and the sharing of a meal will follow the service at VFW Post #1355, 264 W. Fawn River Road, Sturgis. Private entombment of the ashes will take place at a later date at Oak Lawn Cemetery Mausoleum in Sturgis.
Memorial donations would be appreciated to Hackman Family Funeral Homes, P.O. Box 9, Sturgis, MI 49091, to help with expenses.
Her obituary is also at www.hackmanfamilyfuneralhomes.com, where personal messages of support may be left for the family.