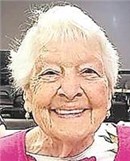 Elaine M. Noland, age 87, of Howe, Ind., passed away Thursday, May 9, 2019, at home.
She was born March 3, 1932, in Sturgis, a daughter of the late Elmer and Helen (Fisher) Yunker.
On Nov. 3, 1950, she married Thurl B. Noland at Lima United Methodist Church in Howe, Ind. He preceded her in death April 19, 2015.
Elaine graduated from Sturgis High School with the class of 1949, then graduated from Michigan State University Insurance School.
She was employed by Blain Insurance Agency, Bucknell Insurance Agency, Farm Bureau Insurance and also worked at Dresser Law Office in Sturgis.
She was a member and organist at Howe United Methodist Church and also played at Howe Military Academy.
Surviving are a daughter, Dee (Roger) Miller of Howe, Ind.; a son, Kevin (Beth) Noland of Sturgis; six grandchildren, Tara (John) Gilmore of LaGrange, Ind., Trent (Jennifer) Miller of Leo, Ind., Angela (John) Harker of Sturgis, Kaycee (Bill) Noland of Fort Walton Beach, Fla., Rachel Cobb of Sturgis and Rhonda Cobb of Indianapolis; 15 great-grandchildren; two sisters, Norma Wenger and Marilyn Fisher; and several nieces and nephews.
She was preceded in death by her parents; and her husband.
The family will receive friends and relatives from 4 to 7 p.m. Monday at Rosenberg Chapel of Hackman Family Funeral Homes, 807 E. Chicago Road, Sturgis.
Services celebrating the life of Elaine M. Noland will be held at 11 a.m. Tuesday at the funeral home, with the Rev. Ed McCutchan, Howe United Methodist Church, officiating. Interment will follow in Oak Lawn Cemetery.
Memorial donations may be directed to Howe United Methodist Church, 511 3rd St., Howe, IN 46746.
Her obituary is also at www.hackmanfamilyfuneralhomes.com, where personal messages of support may be left for the family.