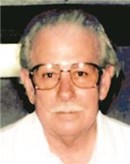 Foy Heltzel, age 87, of Sturgis, passed away Friday, May 24, 2019, at Borgess Medical Center in Kalamazoo.
He was born Nov. 23, 1931, a son of Milton and Sylvia (Itt) Heltzel.
Foy lived in LaGrange County, Ind., for 31 years, moving in 1962 to Sturgis, where he lived until his death.
He was a veteran of U.S. Army, serving 1952-1954, and was stationed in Alaska.
In 1954, he went to work for Kirsch Company until his retirement in 1998. From 1999-2003, he worked at Morrison Trucking in Coldwater.
In 1980, he married Sandra Copas.They were together 39 years until his death.
Surviving are his wife, Sandra; a step-daughter, Dawn Hall of Sturgis; a stepson, Gene Mosser of Mongo, Ind.; and numerous nieces and nephews.
He was preceded in death by his parents; four sisters, Marie, Welcome, Mary and Donna; and three brothers, George, Ralph and Dallas.
According to his wishes, cremation has taken place. Rosenberg Chapel of Hackman Family Funeral Homes, 807 E. Chicago Road, Sturgis, has been entrusted with arrangements.
His obituary is also at www.hackmanfamilyfuneralhomes.com, where personal messages of support may be left for the family.