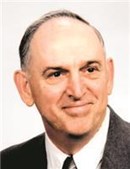 Lyle E. Thrasher, age 85, a lifelong resident of Sturgis, passed away Wednesday, May 22, 2019, at his home, with family by his side.
He was born June 15, 1933, in Sturgis, a son of the late Ambrose and Hazel (Bordner) Thrasher. On June 25, 1960, he married Mary L. Persails.
Surviving are his wife, Mary; two sons, Alan (Renae) Thrasher of Three Rivers and Mark (Kathy) Thrasher of Orland, Ind.; a daughter, Karen Thrasher of Sturgis; eight grandchildren; seven great-grandchildren; a brother-in-law; and two sisters-in-law.
He was preceded in death by his parents; two sons; two grandsons; two brothers; a sister; two sisters-in-law; and a niece.
The family will receive friends and relatives from 9 to 11 a.m. Saturday at Rosenberg Chapel of Hackman Family Funeral Homes, 807 E. Chicago Road, Sturgis.
Services celebrating the life of Lyle Thrasher will be held at 11 a.m. Saturday, immediately following visitation, at the funeral home. The Rev. George Milliman of Burr Oak Missionary Church will officiate. Interment with full military honors will follow at Burr Oak Cemetery.
The family suggests memorial donations be directed to Sturgis V.F.W. or Christopher Reeve Foundation. Envelopes are available at the funeral home.
His obituary is also at www.hackmanfamilyfuneralhomes.com, where personal messages of support may be left for the family.