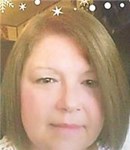 Pauline M. (Boggs) Randol, age 51, of Sturgis, passed away on Monday, May 6, 2019, at her home.
She was born Feb. 18, 1968, in Sturgis, a daughter of Nick & Bonnie (Willms) Witham. On July 2, 2014, Pauline married Doyle Randol at Rainbow Pit in Mongo, Ind. He survives. Pauline previously had worked at Sturgis Hospital in the medical records department. The last few years, she was a homemaker.
She is survived by her parents; her husband; a son, Charlie J. Randol of Sturgis; two daughters, Harley and Reagan Martin, both of Sturgis; a sister, Kellie Wetzel of LaGrange, Ind.; four grandchildren; and several nieces and nephews. She was preceded in death by a brother, Lynn Witham.
The family will receive friends from 4 to 7 p.m. Monday, May 13, 2019, at Carney-Frost Funeral Home, LaGrange. The memorial service will start at 7 p.m. Monday at the funeral home, with Pastor Steve Herendeen officiating. Burial will take place at a later date in Greenlawn Cemetery, Orland Ind. Online condolences may be sent at www.carneyfrostfuneralhome.com.