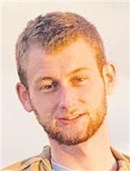 Austin Peter Stemen, age 19, of Sturgis, passed away Wednesday, June 19, 2019, at his home.
He was born Jan. 24, 2000, in Sturgis, a son of Daniel Peter and Tina (Gilliland) Stemen.
Austin was a lifelong Sturgis resident and a graduate of Sturgis High School with the class of 2018, and was currently a student at Kellogg Community College in Battle Creek.
He was employed by Michigan Tool Works in Sturgis and also had worked at Lord's Seed Company in Howe, Ind.
Austin had a love of the outdoors. He enjoyed hunting, fishing and working on cars with family and friends. Austin had the mind of an engineer. Given a job or a problem to fix, he always seemed to find the solution and complete the task.
He is survived by his parents; a sister and best friend, Hannah Stemen of Ypsilanti; grandparents Edward and Dolores Stemen of Sturgis; Sammye Gilliland of LaGrange, Ind., and Karen (Ken) Shelton of Angola, Ind.; aunts and uncles Scott (Kathy) Gilliland of Alamo, Tenn., Paul (Emily) Stemen of Sturgis and Marty (Rachel) Stemen of Greenville; cousins Brittany (Baker) Gilliland, Brooke (Jonathan) Percie Anderson, Nathan Stemen, Sara Stemen, Sofia Stemen, Camille Stemen and Lola Stemen; lifelong best friends, Owen Bowersox, Slade Weekly and Jake Bundy; and his dogs, Bo and Bella.
The family will receive friends from 2 to 6 p.m. Sunday at Hackman Chapel of Hackman Family Funeral Homes, 114 S. Nottawa St., Sturgis. Funeral services celebrating the life of Austin Peter Stemen will be held at 11 a.m. Monday at Radiant Life Church, 907 N. Nottawa St., Sturgis. Austin's cousin, Pastor Jonathan Anderson, will officiate. In accordance with family wishes, cremation will follow services.
In lieu of flowers, the family suggests memorial donations be directed to Ark Animal Sanctuary, 0530 E-300 S, LaGrange, IN 46761, an organization for which Austin volunteered.
His obituary is also at www.hackmanfamilyfuneralhomes.com, where personal messages of support may be left for the family.