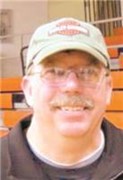 Dennis Arthur Maystead, age 54, of Sturgis, was surrounded by his family when he passed away early Friday morning, June 7, 2019, at Sturgis Hospital.
He was born Dec. 6, 1964, in Sturgis, a son of Donald A. and Dorothy (Grate) Maystead.
Dennis was a lifelong Sturgis resident and a graduate of Sturgis High School with the class of 1983.
While working at Burger King in Sturgis, he met the love of his life, Laurie Sturgis, and the couple was married Aug. 8, 1987.
Denny was a co-owner of Prairie Edge Farms in Sturgis and also had been employed by United Technologies in Howe.
He was a member of Capt. John J. Kelley Post #1355 VFW Auxiliary, Eagles Lodge #1314, past member of Loyal Order of Moose #574 and a life member of the local H.O.G. Chapter. Denny took great pride in being the "Bossman" of the potato fields and enjoyed attending antique tractor shows. Many will miss hearing the very loud sounding of his train horn at neighborhood gatherings. He truly loved spending time with his family and many friends, hanging out at Adamski Social Club, driving his big green tractor and golf cart rides with his grandchildren and dogs.
He is survived by his loving and dedicated wife, Laurie; two children, Devin (Amanda Babb) Maystead and Danielle (Brian) Barrons; grandchildren Carsyn Maystead, Keegan Babb and Makinley Barrons; his mother, Dorothy Maystead; a brother, Dean (Barb) Maystead; lifelong friend "Big Buddy" Jeff Adamski; and several nieces and nephews.
He was preceded in death by his father, Donald A. Maystead, on Nov. 17, 2018; and his grandparents.
The family will receive friends from 4 to 8 p.m. Tuesday at the Rosenberg Chapel of Hackman Family Funeral Homes, 807 E. Chicago Road, Sturgis. Those wishing to wear #TEAMMAYSTEAD shirts may show their support by wearing them on Tuesday.
Funeral services celebrating the life of Dennis A. Maystead will be held at 11 a.m. Wednesday at Radiant Life Church, 907 N. Nottawa St, Sturgis. The Rev. Ryan Bibb will officiate. A graveside committal will follow the service at Oak Lawn Cemetery in Sturgis.
The family suggests those wishing to make a memorial donation in Denny's memory consider the Burr Oak 4-H Club, 67433 County Farm Road, Burr Oak, MI 49030; or Future Farmers of America, c/o Centreville Public Schools, 190 Hogan St., Centreville, MI 49032.
His obituary is also available at www.hackmanfamilyfuneralhomes.com, where personal messages of support may be left for the family.