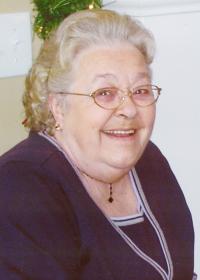 Mrs. Mary Helen Peck, age 86, of Three Rivers, went to be with her Savior on Sunday, June 23, 2019 at the Heartland Health Care Center. She was born on April 1, 1933 in Milan, MI., the daughter of the late William and Margaret Susan (Trachel) Bame.
Helen moved with her family to Three Rivers in 1961 to work at Continental Can Company. She and her late husband Tom, who preceded her in 1997, created a career in the janitorial business where she worked until 2010. Helens greatest love was her family to whom she was devoted and will be loving missed. Helen was former and long time member of Moorepark Community Church.
Helen is survived by one daughter, Debbie (Jim) Kauszler, of Sturgis, MI; one son, Todd Peck, of Three Rivers; three beloved granddaughters, Mary (Mark) Schindel, Jaimee Peck, and Kayla Peck. Two beautiful grandchildren, Claire and Markus Schindel. Two brothers, Henry and Delbert Bame. As well as many nieces and nephews.
The family will receive friends from 11:00 a.m. until the time of her celebration at 12:00 noon on Thursday, June 27th, 2019 at the Hohner Funeral Home.
Interment will be held in Moorepark Cemetery. Memorial donations may be directed to Three Rivers Health Hospice or the Charity of One's Choice. Envelopes available at Hohner Funeral Home in care of arrangements. Online condolences may be left at www.hohnerfh.com.