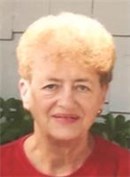 Janet Rae Pheils, age 84, of Schoolcraft, died Thursday, June 13, 2019, surrounded by family.
Janet was born in Sturgis to Daryle and Ruby (Harris) Pheils. The oldest of three children, she grew up on the family farm in Howe, Ind. She played the organ and taught Sunday school in the local church and graduated from Scott High School.
Shortly after the birth of her son Steven, she moved to Schoolcraft. Located on the annual Schoolcraft Fourth of July parade route, Janet hosted picnics for family and friends for 50 years of parades. These events were such a time-honored tradition it was not uncommon to have many of Steve's old school friends stop by just to say "hello" to her when they came back to town to visit.
As a single mother, she was not afraid of hard work. After retirement from Newhouse Printing Supplies, she delivered Meals on Wheels, drove friends to various appointments, was the secretary and organizer of her school alumni dinners and worked every Thursday at Schoolcraft Auto Auction, only retiring from there in the last few months. Janet was very involved with all of Steve's school activities. She was a member of the band boosters and attended many basketball and football games over the years. She lovingly cut out every newspaper article that included any mention of Steve's name and accomplishments and created multiple scrapbooks over the years, long before scrapbooking was a "thing."
When Steve finally got around to settling down, Janet welcomed Wendy and Brianna into the family with open arms. The birth of her grandson Paul was one of the highlights of her life and she bragged about him to anyone who would listen. She spent time with him every chance she could, attending his piano recitals, musicals and baseball games. Many times, the two of them would play piano together in her living room and you could see the joy light up her face.
The poem "The Dash" by Linda Ellis talks about how the line between a person's birth date and the date they died represents the life they have lived. Although Janet's life was not always easy, she provided a loving home for her son, cherished the company of family and friends, loved her hometown of Schoolcraft, traveled and spoiled her grandson. She was an independent woman with a gentle soul and she will be missed by many.
Janet was preceded in death by her parents, Daryle and Ruby Pheils; a great-nephew, Nick Hensley; and a brother-in-law, Merl Hensley. She is survived by her son Steven (Wendy) Pheils; her grandchildren Brianna VanCamp and Daryle Paul Pheils; her sister Beverly (Keith) Schraeder; her brother Daryle Frank (Gail McClish) Pheils; nephew Scott Hensley; and nieces Michelle (Jeff) Todd and Sandra (Tom) Capps. Great-nieces and great-nephews include Danielle Hensley, Kyle (Mckayla) Todd, Carly Todd, Sam Todd, Thomas Capps and Ryan Capps.
A celebration of Janet's life will be held from noon to 2 p.m. Saturday, June 22, at Schoolcraft United Methodist Church.
Arrangements by Avink Funeral Home.