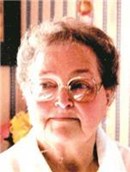 Reta Rose Keith, age 85, of Sturgis, passed away early Thursday afternoon, June 13, 2019, at Thurston Woods Village in Sturgis.
She was born July 23, 1933, in Lansing, a daughter of the late Maurice and Alta (Adams) Finnerman.
Reta was a lifelong Sturgis resident. In August 1950, she married Warren Maxwell. This marriage ended in divorce and he passed away May 16, 2012. On Dec. 20, 1969, she married Franklin "Bud" Keith Jr. in the Kimball Chapel at First United Methodist Church in Sturgis. He preceded her in death Dec. 3, 1993.
Reta was a farmer's wife and was employed by Sturgis Molded Products. For several years, she worked as an elementary recess teacher for Sturgis Public Schools, a job she truly loved. While living in town, she was known as "the cookie lady," Mrs. Keith. She provided delicious homemade cookies to the children on their way home from school. She was a loving and devoted mother. She gave all of herself to her children. When times were hard, she went without, so each of them could have what they needed.
Reta was a loving grandmother, she was a natural. Her grandchildren brought her so much joy and pride and they received as much joy and love from her.
She was a country girl. Starting in the country as a farmer's wife and later living in the city raising her children following her divorce. Eventually, she once again was able to go back to the country living with her husband Bud. A lifestyle she loved so much.
She enjoyed her animals, crocheting, baking, yard work and gardening and loved time spent with family, especially her grandchildren.
Mrs. Keith is survived by five daughters, Sandy (Pete) Anderson of Dublin, Ohio, Susan (Richard) Willis of White Pigeon, Sheila (Tracy) Webb of Sturgis, Mary (Troy) Smith of Three Rivers and Lynn Keith of Sturgis; a son, Raymond Maxwell of Sturgis; six grandchildren, Austin Webb, Dillon (Autumn) Webb, Laura (Josh) Webb, Jacob (Morgan) Webb and Bobby and William Parish and Leslie Willis; 10 great-grandchildren, Bradyn Webb, Carson Webb, Connor Randol, Emma Webb, Sophia VanDosen, Austin Mitchell, Ethan Randol, Archer Randol, Avery Randol and Ryker Randol; and several nieces and nephews.
She was preceded in death by her parents; her husbands; a daughter, Cindy Richards, 1985; and two brothers, Jack Finnerman and Francis "Frank" Finnerman.
The family of Reta Rose would like to thank employees of Thurston Woods Village and the many residents who were so kind to our mother during her days there. Your friendship, compassion and kindness toward her made her stay much more comfortable and easier for her to accept. You were there for her during the time we couldn't be and that means so much to us. One employee described Reta as an "elegant lady"; it was possible for her to keep her dignity and that elegance about her with their hard work.
The family will receive friends from 3 to 7 p.m. Monday at the Hackman Chapel of Hackman Family Funeral Homes, 114 S. Nottawa St., Sturgis. Funeral services celebrating the life of Reta Rose Keith will be held at 11 a.m. Tuesday at the funeral home. The Rev. Luke Eicher of Grace Christian Fellowship Church will officiate. Burial will take place Tuesday afternoon at Peek Cemetery in Florence Township.
The family suggests those wishing to make a memorial donation in Mrs. Keith's memory consider Thurston Woods Village, 307 N. Franks Ave., Sturgis, MI 49091.
Her obituary is also at www.hackmanfamilyfuneralhomes.com, where personal messages of support may be left for the family.