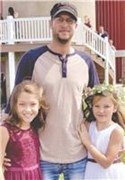 Joshua Nelson Bell, age 36, of Sturgis, passed away Wednesday, July 17, 2019, at his home.
He was born Sept. 25, 1982, in Sturgis, a son of Daniel Nelson and Debra (Trine) Bell.
Josh was a lifelong Sturgis resident and a member of the Sturgis High School class of 2001 and a graduate of Ding King Car Detailing School.
Most of his working life was in the travel trailer industry. His last job was with Keystone RV Company.
He was a member of Riverside Church in Three Rivers, B.P.O.Elks #1381, Ducks Unlimited and he was an avid loyal fan of the Oregon Ducks.
He had a true appreciation for the outdoors, hunting, fishing, motocross, BMX racing and snowmobiling, to name a few of the activities he enjoyed. Josh had hobbies and interests, but what he truly cherished was time spent with his two daughters.
He is survived by two daughters, Brynlee and Harper Perry, both at home; his mother, Debra Adams of Sturgis; father and stepmother, Daniel (Tammy) Bell of LaGrange, Ind.; stepfather Douglas Adams of Sturgis; a sister, Christina Bell-Tolin of Fort Wayne, Ind.; a brother, Matthew David (Chelsea) Bell of Fort Wayne, Ind.; nieces Nevaeh and Kenleigh Tolin; former wife and close friend, Michelle Perry-Cobb of Bronson; former mother-in-law and good friend Gayla Perry of Sturgis; close friend Travis Thangvijit of Sturgis; and several stepbrothers, stepsisters, aunts, uncles and cousins.
The family will receive friends from 11 to 2 and 5 to 7 Monday at Rosenberg Chapel of Hackman Family Funeral Homes, 807 E. Chicago Road, Sturgis. Funeral services celebrating the life of Joshua Nelson Bell will be held at 2 p.m. Tuesday at Riverside Church, 207 E. Michigan Ave in Three Rivers. Pastor Jeremy Ellis will officiate. In accordance with his wishes cremation will follow the services.
In lieu of flowers, memorial donations would be appreciated to the Brynlee and Harper Perry Trust Fund.
His obituary is also at www.hackmanfamilyfuneralhomes.com, where personal messages of support may be left for the family.