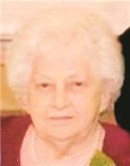 Lois Jean Sanderson, age 86, of Sturgis, passed away Friday afternoon, July 26, 2019, at Thurston Woods Village in Sturgis.
She was born April 19, 1933, in LaGrange County, Ind., a daughter of the late Marion and Mildred (Patrick) Kime.
Lois was a lifelong Sturgis resident. In November 1950, she married Conrad Lewis Sanderson in Centreville. He died July 18, 1978.
She retired from Thurston Woods Village in Sturgis following several years of dedicated employment. In retirement, she wanted to continue to help others by caring for individuals in their home.
Lois was a member of Sturgis Missionary Church. She enjoyed riding her three-wheel bike around town, especially trips to Jimi Jo's Ice Cream Shoppe. Lois had a true love and appreciation for animals. She was known to take in stray animals. Not just dogs and cats, but raccoons and opossums and, really, any animal in need.
She is survived by a daughter, Christine (John) Vance of Sturgis; three sons, Jim (Carmel) Sanderson of Sturgis, Richard (Christine) Sanderson of Portland, Ore., and Greg (Candy) Sanderson of Sturgis; eight grandchildren, Sara Miller, Kelly Vance, Steve Miller, Bridget Bearden, Misty Sanderson, Emily Sanderson, Brian Sanderson and Sloane Sanderson; six great-grandchildren, Sasha Miller, Rachel Frye, Ryan Miller, Ashley Gerkin, Lyric Sanderson and Brynliegh Sanderson; several great-great-grandchildren; two sisters, Beverly (Don) Unterkircher and Mary Reed, both of Sturgis; a brother, Jack (Eddie) Kime of Ligonier, Ind.,; a sister-in-law, Helen Salisbury of Kalamazoo; and many nieces and nephews.
She was preceded in death by her parents; her husband; a son, Steve Sanderson; and a sister, Judy Kime.
In accordance with family wishes, cremation has taken place. A memorial service celebrating the life of Lois Jean Sanderson will be held at a later date, to be announced.
Hackman Chapel of Hackman Family Funeral Homes of Sturgis is entrusted with the arrangements.
Her obituary is also at www.hackmanfamilyfuneralhomes.com, where personal messages of support may be left for the family.