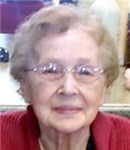 Wanda Jean (VanZile) Parlin, age 92, of Sturgis, passed away on Wednesday, July 10, 2019, at Thurston Woods in Sturgis.
Wanda was born Feb. 7, 1927, in Elkhart, a daughter of the late Rolland J. and Fern I. (Thursby) Wise.
Wanda grew up in Centreville, graduating from Centreville High School with the class of 1945. She later moved to Sturgis.
On Feb. 4, 1945, she married Donald D. VanZile. Later, on Feb. 15, 1997, she married Oliver Parlin.
Wanda had worked as a clerk and cashier for the former 3D Store in Sturgis for 13 years. She also worked at several other area businesses.
She is survived by a daughter, Deborah (Robert) Fair of Sturgis; a son, Michael Ray (Wanda) VanZile of Kalkaska; eight grandchildren, Jennifer Graham, Amy Lee, Michelle Chubb, Timothy VanZile, Andrea Flores, Nichole Delosh, Jaclyn Lehman and Melissa Taylor; three sisters, Romayn Carpenter, Deanna (Don) Muffley and Judy (Ernie) VanOrman; and several nieces and nephews.
She was preceded in death by her husband, Oliver Parlin; a daughter-in-law, Norma VanZile; two sisters; and three brothers.
The family will receive relatives and friends from 5 to 8 p.m. Sunday at Schipper Funeral Home in Colon. A funeral service celebrating the life of Wanda J. (VanZile) Parlin will be held at 11 a.m. Monday, July 15, 2019, at the funeral home, with Mr. Monty Maxwell officiating. Burial will follow at Lakeside Cemetery in Colon.
If desired, the family suggests memorials be made in memory of Wanda to Thurston Woods. Envelopes are available at the funeral home.