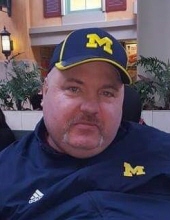 Eric Jay Large, age 56, of Sturgis, passed away Wednesday, August 14, 2019 at home after a courageous battle with FA (Friedreich's Ataxia Neuro-Muscular Disorder).
He was born January 4, 1963 a son to Charles and Edith (Bickle) Large.
Eric was born in Sturgis and later moved to Jones and Centreville,  graduating from Three Rivers High School with the class of 1981, then to Kalamazoo, and eventually back to Sturgis.
He graduated from Glen Oaks Community College and attended Anderson College in Anderson, IN and also Western Michigan University in Kalamazoo.
He had been employed at the Ames Store, Wendy's, Meijer Photo Lab, and Sturgis Hospital in Material Management.
Eric was very involved and passionate about the Disability Network in Kalamazoo where he volunteered much of his time and was on the Board of Directors. He also enjoyed camping, table tennis, softball, and hiking before his health forced him to stop.
He is survived by his parents: Charles and Edith Large of Sturgis; 1 sister: Sandra (Gary) Wade of Jonesboro, IN; 1 brother: Dale (Sue) Large of Racine, WI; Nieces: Jennifer (David) Fox, Carolyn (Matt) Henderson, Preston Wade, Katelyn Large, and Meaghan Large; nephews: Jeffrey Wade and Alexander Large; several aunts, uncles, and cousins; a close special sister: Darla Stafford; special friend and caregiver: Jessica (Rob) Hempel and their family; and his very special caregiving team.
He was preceded in death by his grandparents.
According to his wishes, cremation has taken place. The family will receive friends and relatives from 2:00 to 4:00 on Saturday, August 17, 2019 at Brighton Chapel, 5415 N. State Rd. 3, Howe, IN 46746. A Memorial Service celebrating the life of Eric Jay Large will be held at 4:00 P.M., Saturday, immediately following visitation, at the church with Pastor Rustin Krapfl, officiating.
Memorial donations may be directed to the family, The Disability Network of Kalamazoo, or the Bair Lake Bible Camp. Envelopes are available at the Hackman Family Funeral Homes, 114 S. Nottawa St. or 807 E. Chicago Rd., Sturgis, MI 49091 who has been entrusted with the arrangements.