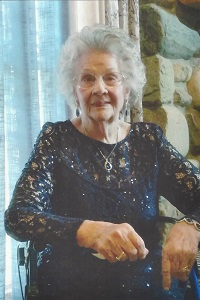 Gladys "Lucille" Melville, age 94, of Marcellus, passed away early Thursday morning, August 22, 2019, peacefully in her sleep.
Lucille was born on April 21, 1925 in Poplar Bluff, Missouri, the daughter of Robert F. and Iva P. (Luskleet) Midkiff.
On November 20, 1943, she married Leslie E. Melville in Benton Harbor, MI. Together they had five children: Sandra, Donna, Susan, Leslie "Rick", and DeeAnn. They were married for 63 years before Leslie E. passed away on June 30, 2007.
To many, Gladys was known as "Lucille" and known for her generosity, she poured her heart and soul into her family. She found her joy in the service of others. Lucille loved people and would do anything for them. As her late husband once said, "Lucille is a people person." In 1945, she moved to Big Fish Lake. Lucille enjoyed working on her father and mother-in- law's strawberry farm, the family tavern, and Melville's Construction, in which she and "Stub" had built their lives in partnership with John and Doris Melville. In 1983, they decided to open what became their legacy: Melville's Campground, which she owned and managed the rest of her days. Some of Lucille's hobbies included: writing letters and/or cards to her family members (she never missed a holiday or birthday), cooking amazing food and baking her iconic homemade cherry pie, shopping for special gifts with her daughter Susie, going to the movies with her daughter DeeAnn, laughing with her son Les, and watching the Channel 3 movies at 9 o'clock in the morning while doing the laundry with her daughters Sandy and Donna. Lucille loved visits, with her family and friends, which were usually spent, reminiscing over years, long past, childhood stories, and times of laughter. Lucille was a proud lifelong member and very involved in the Eastern Star.
Lucille is survived by her children; five children: Sandra L. Churchill of Marcellus, Donna J. (Roger) Motter of Marcellus, Susan L. (Ralph) Balkema of Schoolcraft, and of Lawton, Leslie E. "Rick" (Dawn) Melville, and DeeAnn (Mike) Voss, fifteen grandchildren: Garrett (Jamie) Melville, Hillary (Justin) Silver, Brandon Feringa, Alex, Austin, and Abby Voss, Heather (Scott) Johnson, Holly (Mario) Brown, Lisa Roy-Churchill, Shelly (Matt) Derrick, Eric (Emily) Szeide, Adam (Shannon) Sziede, Brandon (Sarah) Balkema, Craig Balkema, and Rasaun Brown, seventeen great grandchildren: Trent Johnson, Harper and Ryker Roy, Anderson and Bennett Brown, Nate Jackson, Jenna Derrick, Lydia, Selah, Natalie, Jackson Balkema, Arden, Andrew, Ryder, and Addison Sziede, Caelan and Graham Silver, and extended family Charlie Van Osdol of Dowagiac.
Lucille is preceded in death by her loving parents: Robert F. and Iva P. (Luskleet) Midkiff, two sisters, son-in- law: Fred Churchill.
The family will welcome friends for visitation Tuesday, August 27, 2019, from 2 to 4 and 6 to 8 pm, with Eastern Star service at 7:30 PM, at Mater-Ralston Funeral Home, funeral service on Wednesday, August 28, 2019, at 11 AM, at Mater-Ralston Funeral Home, and burial will follow at Hamilton Township Cemetery in Decatur, with Pastor Thad Stout officiating. Memorial donations may be directed to Masonic Temple, Ideal Chapter 167, Order of The Eastern Star, or Shriners. Online condolences may be left at www.materralstonfuneralhome.com.