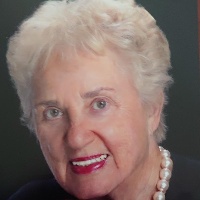 Jacqueline deVerna Bendure (nee: Wendell), age 96, of Lebanon, Ohio, died Saturday, Aug. 17, 2019 at Hospice of Butler and Warren Counties.
Born Oct. 11, 1922 in Wheeling, W.V. to Lay Arthur and Jessie (nee: Lewis) Wendell, she was a dedicated wife, mother and grandmother. A longtime member of the Lebanon United Methodist Church, she was active in the Lebanon Garden Club and Kindervelt. Always fashionable, she was an accomplished artist, golfer and avid bridge player.
Preceded in death by her parents, her husband, Robert James Bendure, and one sister, Judith Popp, survivors include her two sons, Randall S. (Karol) Bendure of Tiffin, Ohio and Raymond L. (Barbara) Bendure of Three Rivers, one sister, Patricia James of Laramie, WY, one brother in law, Herbert Popp of Springdale, Ohio, three grandsons, Ryan, Richard and Ronald, and seven great grandchildren, Riley, Rhett, Royce, Ristin, Rya, Rayne and Kyle.
Visitation,  on Friday, Aug. 23, 2019 from 5 to 7 p.m.  Funeral service, Saturday, Aug. 24, 2019 at 11 a.m., all at the Oswald-Hoskins Funeral Home, Lebanon, Ohio. Interment follows in Lebanon Cemetery. Memorial donations requested to either Kindervelt of Children's Hospital, 3333 Burnet Ave #9002, Cincinnati, OH 45229 or to the United Way of Warren County at 3989 US-42, Lebanon, OH 45036.