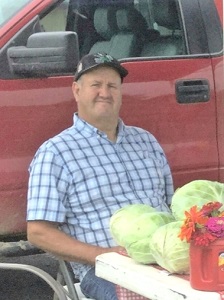 Karl Joseph Albert Kraft, Jr., age 59, of Decatur, was resurrected, early Wednesday morning, August 7, 2019, surrounded by family.
Karl was born February 16, 1960, in Paw Paw, the son of Karl Joseph Albert Jr. and Marjorie Elizabeth (Irish) Kraft.
On December 17, 1998, he married Susan J. Brock in their home located in Decatur.
Karl had an infinite love for Jesus and serving others. He often helped out around his church the Michiana Church of Christ. He always put other people first and wanted to make sure everybody was well cared for. Karl made a career out of farming too. He could be found tending to his greenhouse listening to country western music while he worked. To many, he was known as the "Produce Man" and would sell his fruits and vegetables in downtown Marcellus at the village parking lot. Karl took great pride in his community and greatly appreciated the business that the people of Marcellus loyally provided him. Above all, Karl enjoyed spending any amount of time he could with his grandchildren. It was common for Karl to get down onto the floor with all of them to play, despite the fact he always had a sore back. He'd do anything he could to make them laugh. He also attended numerous high school sporting events and heartily enjoyed going to any Notre Dame basketball or football game alongside his girls.
Karl is survived by his loving wife Susan Kraft, children; Steve Hartline of Marcellus, previous daughter-in-law: Rebekah Green-Hartline of Cassopolis, Amanda J. Hartline of Cassopolis, and Adam W. Gray, brother: Erik J.(Karen) Freeman of Detroit, sisters-in-law: Christine Davis of Decatur, Peg (Chuck) Yordy of Dowagiac, Becky Brock of Florida, brother-in-law: William (Cheri) Brock of Florida, four grandchildren: Caitlyn Nicole, Courtney Paige, and Morgan Alexis Hartline, and Alaina Dove Gray, dearest friends: Justin and Nancy Shepard, and "Napa Fred" Fred Learman.
The family will welcome friends for visitation Sunday, August 11, 2019, from 2-4 and 6-8 PM at Mater-Ralston Funeral Home, funeral service Monday, August 12, 2019 at 11:00 AM, at Michiana Church of Christ: 500 E Prairie Ronde St, Dowagiac, MI 49047, and burial will follow at Crane Cemetery with Pastor Justin W. Shepard officiating. Memorial donations may be directed to Michiana Church of Christ. Online condolences may be left at www.materralstonfuneralhome.com.