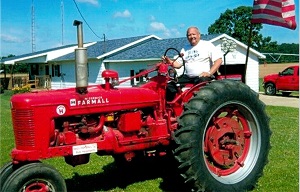 Robert "Bob" Hagelgans, age 76, of Centreville, passed away on Tuesday, August 6, 2019 at his home surrounded by his loving family.
Bob was born in Three Rivers on April 1, 1943, the son of the late Richard and Virginia (Sloan) Hagelgans.  He graduated from Centreville High School with the class of 1961.  Bob served in the Michigan National Guard from 1961-1966.  On September 6, 1974, he was married to Judy Wortinger in Three Rivers.  Bob, along with his wife Judy, owned and operated their farm north of Centreville.  He was a former C.O.C. member of the F.S.A. board in St. Joseph County, where he served for 11 years, was on the Advisory Board for the Centreville F.F.A. Chapter, and was a leader for the St. Joseph County Pleasure Trail Riders. Bob was instrumental in getting the antique tractor pulls returned to the St. Joe County Grange Fair after an absence of many years.  Bob cherished time spent with his grandkids and family.  He enjoyed the Wednesday afternoon card games in his shop with his buddies.  His hobbies included restoring antique Farmall tractors, "harassing John Deere lovers," and hanging out in his shop with his friends and family.  He also loved to drive around in his 1955 Ford T-bird convertible and go camping up north with family and friends.
Bob is survived by his beloved wife Judy, of almost 45 years.  Five children, Lori (Chris) Cupp-Ingersoll and her two sons, Jarrett (Chelsea) and Bailey (Stacy); Jake (Pam) Hagelgans and their two daughters, Kylan (Kyle) Eldridge and Jacy (Caleb) Hettig; Tammy (Barry) Miller and their three children, Savannah, Brady, and Trevor; Jeni (David) Martinson and their three children, Cameron, John, and Jade; and Cindy (Cory) Munn and their four children, Courteney, MaKayla, Aiden, and Ila.Great granddaughters Paisley and Isabelle Cupp and great-grandsons, twins Abel and Owen Eldridge and Greyson Cupp.  Bob is also survived by his sister Rosann Harmon of Three Rivers, and many nieces, nephews, and dear friends.
He was preceded in death by his parents, sisters Joyce Thigpin and Lathorlyn Balk, and brothers Richard and Neil Hagelgans.
Relatives and friends will be received on Friday from 3 to 7 at Eley Funeral Home, Centreville.  Religious services will be held on Saturday at 11:00 at Firm Foundation Ministries with Pastor David Peterson (Centreville Baptist Church) officiating.   Interment will follow at Prairie River Cemetery.  Memorial contributions can be given to Hospice Care of Southwest Michigan.  Online messages can be left for the family at www.eleyfuneralhomes.com.