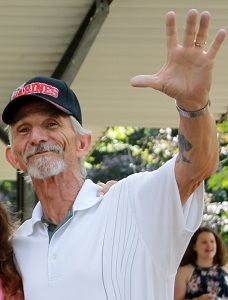 Ronald (Ron) W. Hicks, age 65, of Marcellus, was resurrected on Sunday, August 18, 2019 surrounded by the comfort of family in his home.
Ron loved God, his family and friends deeply. He served four years in the United States Marine Corps and was honorably discharged as Private First Class (E-2). Ron enjoyed Fishing, NASCAR, Golfing, and spreading the word of Christ. He was a Superintendent for Cornerstone Construction and long-time resident of Marcellus.
Ron is survived by his wife: Julie, seven children; three daughters: Charity Hicks of Marcellus, Holly (Justin) Statler of Dowagaic, and Tracy Hicks of Marcellus, four sons: Jeremiah Hicks of Marcellus, Josh (Beth) Maschke of Marcellus, Zac Hicks of Chattanooga, TN, and Nathan (Joy) Hicks of Marcellus, seven siblings; sisters: Janet Perry of Decatur, Debbie McBride of Decatur, Diane Hess of New Jersey, Brian (Stephanie) Hicks of Kalamazoo, Norman (Marge) Harvey of Morley, Dean Hess of Decatur, twenty grandchildren, six great grandchildren, and many nieces and nephews.
He left this world singing the praises of the lord and we know he now resides in heaven as he watches over all of us. We love and miss you Ron.
Ron is preceded in death by father: Raymond L. Hess, brother: Gary Hicks, Raymond Hess, and brother-in-law: Max McBride.
The family will welcome friends for visitation Wednesday 21, 2019, from 2 to 4 and 6 to 8 PM at Mater-Ralston Funeral Home, funeral service Thursday 22, 2019, at 11:00 AM, at Mater-Ralston Funeral Home, and burial will follow at Marcellus Cemetery with Pastor Scott Wiles officiating. Memorial donations may be directed to the family to offset expenses. Online condolences may be left at www.materralstonfuneralhome.com.