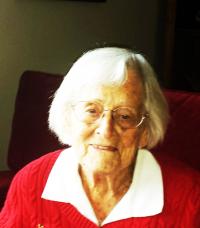 M. Celeste Happel, age 98, of Eugene, Oregon and formerly of Mendon, passed away on Wednesday, Aug. 28, 2019. She was born on the family farm on Aug. 6, 1921 the daughter of the late Leon and Gladys (Klein) Happel. Celeste attended the Hall Country School and graduated from Mendon High School in 1939. She also graduated from Western Michigan University.
Celeste began her 40 year teaching career in one room country schools and later taught at the Leonidas Elementary School. While there she taught the lower grades and also acted as the Principal. She retired in 1982. She was a member of the Michigan Association of Retired School Personnel. Shortly after retirement she moved to Kline's Resort and spent many winters in Marco Island, FL with her sister, Lucille. In 2013 she moved to a Senior Living Home in Eugene, Oregon near her sister, Ruth. There she made many new friends and participated in many activities, her favorite being Bingo. Celeste loved children. She enjoyed watching her students learn and mature. But most of all she loved her eleven nieces and nephews and they loved her, keeping in frequent contact even though far away.
Celeste is survived by her sister, Ruth (George) Fry of Eugene, OR; and ten nieces and nephews and their families. She was preceded in death by her parents; two brothers, Antony Happel and Joe Happel; and by a sister, Lucille Heydenberk.
The family will receive friends from 6 to 8 pm Monday, Sep. 9, 2019 at the Eickhoff Funeral Home in Mendon, and where the Rosary will be recited at 7:30 pm. The funeral mass will be celebrated 11 am Tuesday, Sep. 10, 2019 at St. Edward Catholic Church in Mendon with Msgr. Thomas Martin and Rev. John Fleckenstein officiating. Interment will be in St. Edward Cemetery. Memorial donations may be directed to a charity of your choice. Condolences and memories of Celeste may be shared at www.eickhofffuneralhome.com