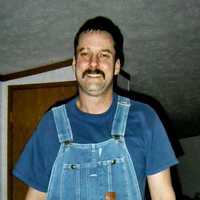 Richard Lee McDaniel Sr., age 55, of Constantine, died on Monday, September 9, 2019 at Henry Ford Hospital in Detroit. He was born on January 1, 1964 in South Bend, a son of Franklin Richard and Linda Kay (Arnold) McDaniel. Richard graduated from Constantine High School in 1982 and attended Glen Oaks Community College. He received his Journeyman tool & die card in 1994. On August 17, 1988 he married Dawn Marie McDaniel in Centreville. They were later divorced.
Richard worked in the tool & die trade from the age of 14 beginning with his parents company, DMS in Constantine, Whitehead Tool & Die in Three Rivers, Crocker Limited in Centreville and finally Stryker Medical in Kalamazoo. Richard holds many patents for both R & D and design work.
Richard was a workaholic spending many hours working in his garden and on his vehicles. He loved his children and nephews and always wanted the best for them.
Surviving are his sons Richard Lee McDaniel Jr. and Ryan Adam McDaniel, daughter Courtney Marie McDaniel, and their mother Dawn Marie McDaniel, all of Constantine; brother Thomas (Paula) McDaniel, Columbia, TN; nephews Lucas McDaniel, Jared Stevens, Travis McDaniel, and Dillian Stevens.
He was preceded in death by his father Franklin McDaniel and mother Linda Buel.
The family would like to give special thanks to Sonya Arnold for her love and care she provided to their father and brother.
Per his wishes, cremation has taken place. There will be no public services. Arrangements are being handled by the Eley Funeral Home in Constantine. Online messages may be left for the family at www.eleyfuneralhomes.com.