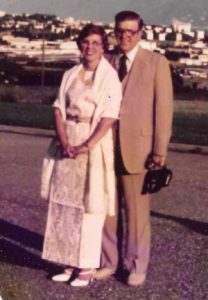 Edith "Sarah"  Hooker was born on July 6, 1923, to the late Edith Mary and Earl Logan Lambert in Dakota, Illinois. While attending Carthage College she met her future husband, Robert L. Hooker, also a student. Upon Bob's ordination as a Lutheran pastor, the then married couple moved to San Francisco. It was the beginning of an adult life full of curiosity, travel ( 50 + countries ), and adventure ( bungee jumping in her 70s ). Sarah was known for her deep faith, love of family and friends, playfulness and zest for living. She was preceded in death by her parents, husband and infant son, Robert Lambert Hooker. She leaves behind her son, Ronald, of Three Rivers, and daughter, Renny, and Son-in-love, Glenn Gambrill of Whitetop, VA. Sarah died on Sept. 5, 2019, leaving a grief stricken family but joins the church eternal in which she so strongly believed.
Per the family's wishes, no public services will be held.
Arrangements by Hohner Funeral Home.