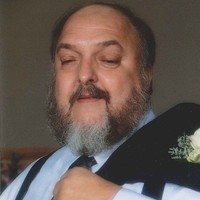 Herbert L. Graber, age 69, of Centreville, formerly of Nappanee, passed away Friday morning, October 25, 2019 at Waterford Crossing in Goshen after an extended illness.
Herbert was born January 7, 1950 in Bremen to Victor and Fannie (Kauffman) Graber.  He grew up in the Nappanee area.  He had lived in Iowa before moving to Michigan.  Herbert graduated from Nappanee High School in 1969.  He was a truck driver. In his free time, Herbert enjoyed trading cattle and attending cattle auctions. Herbert attended Fair Haven Baptist Church in Three Rivers.
Herbert's grandchildren meant the world to him. He enjoyed teaching them how to drive semis, care and trade of livestock, life lessons and to enjoy life with a sense of humor.
Mr. Graber  is survived by his children, Adam Graber, Sturgis; Amber Yoder, Shipshewana; step daughter, Daphne Stevens, Des Moines, IA; 7 grandchildren, Rusty McKeehan, Jordan Robinson, Caileb Graber, Josh Graber, Brandon Graber, Tiffany Yoder, Dylan Yoder; 1 great-granddaughter, Oakley McKeehan; sister, Vera M. Graber, Goshen; and a brother, Ervin Graber, Nappanee.  He was preceded in death by his parents; a son, Daniel Graber; sisters, Mary Kauffman, Karen Graber-Sargent; and brothers, Joseph R. and Henry L. Graber.
Family and friends may call at Thompson-Lengacher & Yoder Funeral Home, Nappanee, IN, from 10 to 11am, Tuesday, October 29, 2019.  Funeral services will take place at 11am.
Rev. Paul Delmark will officiate.  Burial will be in Union Center Cemetery.
Memorial contributions may be given to the funeral home to help with funeral expenses.