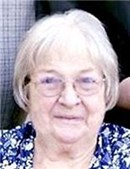 Joyce Irene Thrams, age 82, of Colon passed away unexpectedly Monday, Oct. 14, 2019, at her home.
Joyce was born May 18, 1937, in Parchment, a daughter of the late Harry and Irene (Bush) Heath.
She had lived most of her life in Colon, graduating from Colon High School with the class of 1955.
On July 19, 1956, she married Gerald L. Thrams in Leonidas.
She had been employed at both Haas Company in Mendon and Maxitrol Company in Colon.
Joyce loved time spent with her family.
She is survived by her husband, Gerald L. Thrams of Colon; two sons, Rick Thrams of Colon and Ronald (Karla) Thrams of Bronson; a grandson, Chase Thrams of Big Rapids; three brothers, Ronald (Lucille) Heath of Lake Whales, Fla., Durwood (Gladys) Heath of Leonidas and Willard (Edna) Heath of Mendon; and several nieces and nephews.
She was preceded in death by two brothers, Robert and Harry Heath.
In keeping with her wishes, cremation has taken place. A graveside memorial service celebrating the life of Joyce I. Thrams will take place at 1 p.m. Saturday, Oct. 19, 2019, at Leonidas Cemetery, with the Rev. David J. Farrell officiating. The family was assisted by Schipper Funeral Home in Colon.