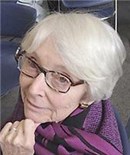 Judith Kirsch Van Solkema died Oct. 19, 2019, at the age of 86.
Born Feb. 10, 1933, in Sturgis, she is predeceased by parents Guy W. Kirsch and Flora Kirsch Beck; brother Charles E. Kirsch; and son David G. Trout.
She is survived by her adored husband, Sherman Van Solkema; daughters Debbie Moran (Larry), Cindy Trout and Karen Trout; daughter-in-law Lori Trout; stepson Steven Van Solkema (Jennifer); grandchildren Emily Moran (Jason Bessey), David Moran (Erica), Andy Santamaria, Grace Santamaria and Joe Santamaria; and beloved nieces and nephews. In addition, the family would like to acknowledge Miranda Dixon, with whom Judy shared an extraordinary 25-year mentoring relationship.
Judy graduated from Sturgis High School and spent summers at Klinger Lake her entire life. She attended several colleges across many years while raising her family, and graduated from Western Michigan University in 1977 with a B.A. in English. She was always curious and loved to learn. She enjoyed attending plays and concerts, collecting art and following college sports, and she also actively embraced new experiences such as joining a soccer team, taking banjo lessons and writing poems and one-woman plays.
A devoted community member in Kalamazoo and beyond, Judy humbly gave of herself. True to her values, she primarily served educational institutions, arts organizations, and philanthropic endeavors, most notably as a board member of Alma College, McCormick Theological Seminary (Chicago), Mary Holmes College (Jackson, Miss.), Kalamazoo Community Foundation and the Irving S. Gilmore International Keyboard Festival. She was recognized as the 1997 Woman of Achievement by YWCA of Kalamazoo. Generous in nature, Judy shied away from the spotlight. She quietly led by example, making a difference to individuals in need of a small act of kindness and to organizations in need of a champion.
Judy was a dedicated and an active 50-year member of First Presbyterian Church of Kalamazoo, where a memorial service and celebration will take place on Saturday, Nov. 2 at 11 a.m. Memorial contributions may be directed to Love Where You Live Fund/Greatest Needs at Kalamazoo Community Foundation, 402 East Michigan Avenue, Kalamazoo MI 49007-3888.
Please visit Judy's webpage for directions, online guest book or to leave a condolence. https://www.langelands.com.