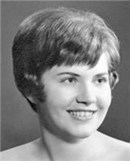 Sue Ellen (Eickhoff) Scherer, age 76, died Sunday, Sept. 28, 2019 at Thurston Woods in Sturgis following a long illness. She was born in Grand Rapids on Nov. 16, 1942 the daughter of Harry B. and Margaret G. (Myers) Eickhoff. Sue was a member of the Mendon High School Class of 1960. She then attended the Borgess School of Nursing. While working as an R.N in the University of Michigan Hospital in Ann Arbor, she met her future husband, Kenneth Scherer. They were married on Jan. 14, 1967 at St. Edward Catholic Church in Mendon, and resided in Mt. Clemens, MI until Ken's passing in 2001.
Sue was a life-long learner and continued her education at Sienna Heights specializing in elder care. For many years she was the homecare coordinator for Macomb Family Services, and later was the services coordinator at Schoenherr Towers Senior Living Center. While in Mt. Clemens she was a member of St. Peters Catholic Church. She loved to read and work word search puzzles with her grandchildren. She enjoyed making Christmas ornaments, embroidery, and working with stained glass.
Sue is survived by three daughters and their families, Monica (Michael) Rhodes of Chicago, IL, Paula Mazzio of Metro Detroit, and Ellen (Sam ) Warner of Charlottesville, VA; seven grandchildren, Harry and Florence Rhodes, Amanda (Jay) DeSantis, Brittany Mazzio, Eve, Louis, and Kenny Warner; a sister, Lynn Eickhoff; four brothers, Jon (Susie) Eickhoff, Rick (Susan) Eickhoff, Dale (Vicki) Eickhoff, and Tom (Lisa) Eickhoff; sisters in law, Connie Eickhoff, Eleanor Mae (Tom) Earnst, and Cathy (Robert) Weyhing; several nieces and nephews. She was preceded in death by her parents; her husband, Kenneth; and brother, Marty Eickhoff.
The family will receive friends from 6 to 8 pm Friday at the Eickhoff Funeral Home in Mendon. The funeral mass will be celebrated at 12 Noon, Saturday, Oct. 5, 2019 at St. Edward Catholic Church in Mendon with Msgr. Thomas Martin officiating. Interment will be in St. Edward Catholic Cemetery.
In celebration of Sue going home, the family invites you to wear or accent your attire in bright, happy colors. Colorful lapel pins will also be available at the door Memorial donations will be directed to Thurston Woods. Memories may be shared with the family online at www.eickhofffuneralhome.com