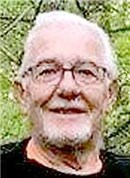 Daniel Harold Stevens, age 76, of Sturgis, passed away early Monday morning, Nov. 11, 2019, at Bronson Methodist Hospital in Kalamazoo.
He was born Sept. 9, 1943, in Sturgis, a son of the late James and Marietta (Wadsworth) Stevens.
Dan resided his entire life in the Sturgis area. On April 18, 1975, he married Brenda Hudnell at Sturgis Church of the Nazarene. She preceded him in death Jan. 14, 1993.
He owned and operated Black Hawk Sharpening in Sturgis and for many years worked as a hair stylist.
Dan was a member of Radiant Life Church in Sturgis. He enjoyed taking his 2002 Pontiac Trans-Am to car shows, hunting and the annual trips Mother's Day weekend to Northern Michigan mushroom-hunting. Dan had interests and hobbies, but what he truly loved was time with his family, especially his grandchildren. He always could be counted on for never missing one of his grandchildren's many activities.
He is survived by four sons, Jeffery (Jill) Stevens of Sturgis, Kurt (Cathy) Stevens of Coopersville, Gregg Stevens of Sturgis and Ryan (Wendy) Stevens of Burr Oak; 10 grandchildren, Denver, Oakley, Jake, Becca, Mason, Parker, Andy, Jaegon, Ella and Jameson; two great-grandchildren: Beckham and Haven; and several nieces and nephews.
He was preceded in death by his parents; his wife; a sister, Marlene James; and wo brothers, David Stevens and James Stevens.
In accordance with his wishes, cremation has taken place. The family will receive friends from 1 to 2 p.m. Wednesday at Radiant Life Church in Sturgis. A memorial service celebrating the life of Daniel H. Stevens will begin at 2 p.m. Wednesday at the church. The Rev. Ryan Bibb will officiate.
Hackman Family Funeral Homes of Sturgis is entrusted with arrangements.
Memorial donations would be appreciated to the family, c/o Ryan Stevens, 417 W. Front St., Burr Oak, MI 49030.
His obituary is also at www.hackmanfamilyfuneralhomes.com, where personal messages of support may be left for the family.