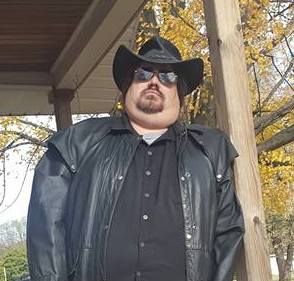 Dustin James Driskel, age 46, died suddenly in Elkhart on Monday, November 11, 2019 at home.
He was born in Three Rivers on December 2, 1972 the son of Karl Earnest (Becky Lynn) Driskel and Nancy (Ken) Phillips.
Dustin was a truck driver working at Pro Fleet Transport at the time of his death.
Dustin enjoyed horses, wolves and hunting. He achieved Eagle Scout rank in the Boy Scouts of America, and served in the United Stated Army. He attended Madison Technical College.
Dustin is survived by his son Darrian Driskel; parents Karl (Becky Lynn) Driskel and Nancy (Ken) (Reigle) Phillips; one sister April (Phil) Miller; one step-brother James Driskel; and several Aunts, Uncles, Nephews and Cousins.
Dustin is preceded in death by his Grandparents Byron Driskel, Hazel (Huss) Reigle and Richard Reigle; Uncle Keith Driskel, Aunt Kimberly (Ewert) Driskel; one Neice Trisha LynnAnn Driskel; two cousins Keith Driskel, Jr,  Korey Driskel.
The family will receive friends from 2 to 4 and 6 to 8 PM on Sunday, November 17, 2019 at the Ralston-Mater Funeral Home. Funeral services will be held at 11 AM on Monday, November 18, 2019 at the Funeral Home with Pastor John Messner officiating. Burial will follow at Marcellus Cemetery. Memorials may be directed to the Family to offset expenses. Online condolences may be left at www.materralstonfuneralhome.com.