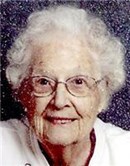 Effie Etura Woods, age 98, of Sturgis, passed away Tuesday evening, Nov. 12, 2019, at Thurston Woods Village.
Effie was born June 14, 1921, in Hendricks Quarry and moved to Sturgis in 1922. She graduated from Sturgis High School in 1939, and worked at Kirsch Company until she was old enough to enlist. Effie was inducted in Kalamazoo on Sept. 25, 1942, and she was the first WAAC from Sturgis to enlist. During her time of service, Effie was recognized for her superior performance of duties and code of conduct and she completed her service in 1946 as a 1st Sergeant at Fletchers General Hospital in Cambridge, Ohio.
On Nov. 27, 1946, Effie married Curtis Edgar Woods, who proceeds her death July 1, 1998, at Trinity Lutheran Church in Sturgis, where she had been a member since 1936. They had two children, William and Susan.
Effie worked at Kirsch Company for 38 years, four months and four days. Her list of social and charitable activities is a testament to her incredible energy and love of life: Kirsch bowling league, Sunday School teacher, Altar Guild, Red Hat Society, TOPs, COPs and Sturgis Hospital gift shop volunteer and Tray Guild. And while all of these activities provide insight into her heart and character, to those closest to her, she was known for her amazing mac-and-cheese, crocheted blankets, competitive card playing and unforgettable memory.
She is survived by a son, William Curtis Woods of Chadron, Neb.; a daughter, Susan Jean Shemberger of Chandler, Ariz.; six grandchildren; 18 great-grandchildren; two great-great-grandchildren; a brother, Ted Ricket; two sisters-in-law; and many nieces and nephews.
She was preceded in death by her parents, Grover and Norma Rickett; her husband, Curtis Edgar Woods; five sisters, Burnus Winkleblack, Dorothy Boggs, Donna Miller, Joyce Miller and Phyllis Helmar; and two brothers, Richard Rickett and Robert Rickett.
The family will receive friends from 2 to 4 p.m. and 6 to 8 p.m. Friday at Rosenberg Chapel of Hackman Family Funeral Homes, 807 E. Chicago Road, Sturgis. Funeral services celebrating the life of Effie E. Woods will be held at 11 a.m. Saturday at Trinity Lutheran Church in Sturgis. The Rev. Calvin Kolzow will officiate. A graveside committal will follow the service at Oak Lawn Cemetery in Sturgis. Full military honors will be conferred by Capt. John J. Kelley Post #1355 VFW and the U.S. Army Honor Guard.
The family suggests those wishing to make a memorial donation in Mrs. Woods' memory consider Trinity Lutheran Church, 406 S. Lakeview Ave., Sturgis; or Thurston Woods Village Bus Fund, 307 N. Franks Ave., Sturgis, MI 49091.
Her obituary is also at www.hackmanfamilyfuneralhomes.com, where personal messages of support may be left for the family.