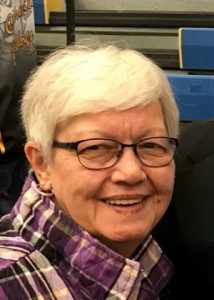 Kay Elaine Delle, age 72, of Colon, passed away Wednesday, November 13, 2019 at Ascension Borgess Hospital in Kalamazoo.
Kay was born February 20, 1947 in Sturgis, a daughter to the late Jess & Donna (Perry) Hettinger.
She grew up in Burr Oak and graduated from Burr Oak High School with the Class of 1965.
On August 13 1983 she married Harry Delle in Howe, IN.
Kay had worked for the former Kirsch Company, as a teller at several area banks, Camburn Appliance, Howe Military School and for the Village of Colon. She had also served as a past member of the Colon Village Council.
She was a member of St. John's Lutheran Church in Burr Oak, where she was a member of the Ladies Aid, had served on the Colon School Board, was a past member of the CAN Counsel.
Kay enjoyed crafts and loved her animals.
She is survived by her husband Harry Delle of Colon, daughter, Teresa Happel of Centreville, six grandchildren; Shane Bower, Ryan Bower, Krista DeWitt, Anthony Maystead, Kaitlin Happel and Matthew Happel, five great grandchildren, sisters, Renee (Ron) Keeslar of Bronson, Sue (Bobby) Stark and several cousins, nieces and nephews.
She was preceded in death by two children, Allen W. Maystead and Tammy Bower and brother Webb Hettinger III.
The family will receive relatives and friends on Tuesday from 2 to 4 and 6 to 8 P.M. at the Schipper Funeral Home LTD. in Colon. Funeral service celebrating the life of Kay E. Delle will be Wednesday, November 20, 2019 at 11:00 A.M.at the Burr Oak St. John's Lutheran Church with Pastor Kurt Kuhlman officiating. Burial will follow at the Burr Oak Township Cemetery. If desired memorials may be made to the family or the Burr Oak St. John's Lutheran Church. Envelopes will be available at the Schipper Funeral Home in Colon. On line condolences may be left at Schipperfuneralhome.com.