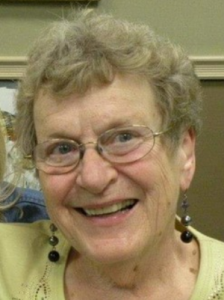 Margery Sue Brondyke, a resident of Woodstock, GA, and formerly of Grand Haven, MI, Seneca, SC, and Sturgis, MI, passed into the presence of her Savior on Tuesday, November 12, 2019. She was 87.
Margery was born on October 26,1932, in Wabash, IN, to James and Phoebe Martin. She married Douglas Brondyke of Muskegon on July 4,1953.
Mrs. Brondyke received both a BS and an MA from Bob Jones University in Greenville, SC. She taught English at Mona Shores High School for several years and then English, Speech, and Drama at Grand Haven Jr. High School, from which she retired in 1986.
Due to her faith in Jesus Christ as Savior, Margery was always an active member of a local church, serving at Little Black Lake Baptist Church in Norton Shores, Robinson Baptist Church in Grand Haven, University Baptist Church in Clemson, SC, and finally at Fish Lake Bible Church in Sturgis, where her eldest son is the pastor. She directed many dramatic and musical programs in her years at those churches and established lifelong friendships. In her final years, attendance at Lebanon Baptist Church in Roswell, GA, gave her much joy and new friends.
Margery was preceded in death by her parents, her brother, David Martin, and her husband of 53 years. She is survived by her children: Karin (T.J.) Turner of Woodstock, GA, Rev. Timothy (Mary Beth) Brondyke of Sturgis, Rev. Brent (Debi) Brondyke of Raleigh, NC, and Nikki Vanderberg of Woodstock, GA; twelve grandchildren: Tara (Kent) Martindale, Jared (Amelia) Turner, Jana (Justin) Sandoval, Kyle (Julia) Turner, and Corey Turner of GA, Jonathan (Kimberly) Brondyke and Jessica (Dan) Higginbotham of Sturgis, Josiah (Rachel) Brondyke of FL, Mikah (Jessica) Brondyke and Evan Brondyke of NC, Alyssa and Cassie Vanderberg of GA; and fifteen beloved great grandchildren.
The funeral for Mrs. Brondyke will be held at Fish Lake Bible Church, 25108 Banker St., Sturgis, at 11:30 a.m. on Saturday, November 23, 2019. Visitation will precede the service at 10:00 a.m. Interment will be in Lakeshore Cemetery, Grand Haven. The family will attend the gravesite on Sunday, November 24 at 10:30 a.m. Friends are welcome.
Memorial gifts may be designated to Fish Lake Bible Church of Sturgis, or Bob Jones University of Greenville, SC. Both ministries were very important to her, and are appreciated by her family.
Arrangements were entrusted to Eley Funeral Homes, Centreville. Online messages can be left for the family at www.eleyfuneralhomes.com.