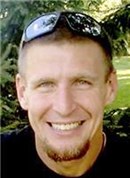 Michael T. Maskow, age 44, of Howe, died Sunday, Nov. 17, 2019, due to injuries sustained in an automobile accident in Mishawaka.
Michael was born July 25, 1975, in LaGrange, to Thomas J. and Barbara J. (Woodworth) Maskow. They survive in Howe.
Living in the Howe area for many years, he had worked in manufacturing.
Along with his parents, he is survived by his grandmother, Joyce Woodworth of LaGrange; a sister, Melanie Pearson of White Pigeon; a brother, Brett Maskow of Howe; two nieces, Ashlyn and Massie Maskow; and two nephews, Tristan Pearson and Davy Weaver.
A memorial visitation will begin at 1 p.m. Friday, Nov. 22, 2019, and continue until the memorial service begins at 4 p.m., at Frurip-May Funeral Home, 309 W. Michigan St., LaGrange, Ind. The Revs. Andrea and Chris Lantz will officiate.
Burial will take place privately at a later date at Brighton Cemetery in rural Howe, Ind.
Memorials may be made to the LaGrange Communities Youth Centers Inc.
Condolences may be left for the family at www.fruripmayfuneralhome.com.