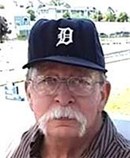 Funeral service for SFC (Retired) Tom A. Clouse, age 66, of Apache, Okla., will be at 9:30 a.m. Friday, Nov. 8, 2019, at Lawton Ritter Gray Funeral Home Chapel in Lawton, Oklahoma with Chaplain Richard Melvin officiating.
Mr. Clouse passed away Thursday, Oct. 31, 2019, in Lawton.
Burial with full military honors will be at Fort Sill National Cemetery in Elgin, Okla.
Tom was born Sept.3, 1953, in Sturgis, to Joseph Clouse and Glema (Blanchard) Clouse-Saltzman. He grew up in Sturgis and graduated from Sturgis High School in 1972. He then worked construction for a while. On June 30, 1973, Tom married Miss Paula Maher in Mendon. They lived in Michigan before moving to Lawton, Okla., looking for a better life. In August 1975, Tom began his career with the U.S. Army at Fort Sill and for the next 20 years, five months and nine days he served three tours in Germany, one tour in Korea, Fort Lewis, Wash., Fort Bliss, Texas, and was in Saudi Arabia and Kuwait during Operation Desert Storm, returning to Fort Sill for his final assignment before retiring in January 1996. While serving his country proudly, he received many awards and medals.
Tom and Paula are members of Gold Wing Road Riders Association. They traveled and camped at many locations including Canada and major National Parks throughout the United States. They also are members of Lawton Crafts, Arts and Hobby Association.
He is survived by his loving wife of 46 years, Paula, of the home. His daughters and son-in-law, Aimee Howard and Jennifer and Wesley Smith, all of Lawton, Okla.; grandchildren Joseph Howard, Kristopher Smith and wife, Shirley, Alexandra Smith and Katelynn Clouse; a great-grandson, Theodore Smith; three bothers and sisters-in-law, Jerry and Barb Clouse, Allen and Michelle Clouse and George and Barb Clouse, all of Sturgis; four sisters and brothers-in-law, Alice and Ken Mullins, Mary and Steve Holt and Kathrine and Dennis Matthis, all of Sturgis,, and Patricia and Edward Stark of Santa Ana, Calif.; his mother-in-law, Patricia Maher, of Three Rivers; an uncle, Richard Blanchard of California. Numerous brothers-in-law and sisters-in-law; and his large extended family of nieces, nephews and cousins.
He was preceded in death by his parents; his stepfather, Carl Saltzman; and two brothers, Michael Clouse and William Clouse.
Memorial contributions may be made to American Heart Association , 3401 NW 63rd Street, Suite 200, Oklahoma City, Oklahoma 73116; or Disabled American Veterans , 4704 NW Motif Manor Blvd., Suite 5, Lawton, Oklahoma 73505.