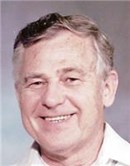 Arnold L. Malesh, age 92, of Colon passed away Friday, Dec. 20, 2019, at Maple Lawn of Coldwater.
Arnold was born Nov. 28, 1927, in Chicago, a son of the late Adolph and Mary (Norbut) Malesh. Arnold grew up in the Chicagoland area and was a veteran of the U.S. Army. Before moving to Colon in 1992, Arnold and his family made Colon their second home, with a home on Sturgeon Lake that they had attended since 1953.
On May 28, 1949 Arnold married AnnMarie Barbic in Chicago.
Arnold was a mechanic by trade and do-it-yourself handyman. There was no job he would not tackle, from building his home to repairing anything. He had a place in his heart for the family dogs.
Arnold is survived by a son, Donald (Deborah) Malesh of Warrenville, Ill.; and three grandsons.
In addition to his parents, Arnold was preceded in death by his wife, AnnMarie Malesh, on Oct. 7, 2019; and a daughter, Karen Malesh, in February 2017.
The family will receive friends and family from 10 a.m. to noon Saturday, Dec. 28, 2019, at Schipper Funeral Home. A funeral service will follow at noon at the funeral home, with Father Mathias officiating. Burial will follow at Lakeside Cemetery in Colon. Online condolences may be left for the family at Schipperfuneralhome.com.