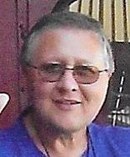 Jeffrey Dean Eichorn, age 57, a lifelong resident of Sturgis, passed away Monday, Dec. 23, 2019, at his home, surrounded by his loving family.
He was born Dec. 9, 1962, in Sturgis, a son of the late Lewis Carl and Dorthelda Sue (Troyer) Eichorn Sr.
On Oct. 15, 1983, he married Dorothy A. Pant in Sturgis.
Jeffrey was employed at Abbott Laboratories for more than 18 years and was a member of Sturgis Church of the Nazarene.
He enjoyed camping, woodworking, birdwatching, building model trains and planes and was a member of Tri-State Station Train Club of Freemont, Ind., Sturgis Train Club and Boy Scouts of America.
Surviving are his wife, Dorothy; a daughter, Nicole Eichorn of Sturgis; a son, Jeffrey Eichorn of Kalamazoo; two grandchildren, Rebeka and Sahara Eichorn; two sisters, Debra (Robert) Kinsey and Tamara Eichorn, all of Sturgis; two brothers, Lewis Carl Eichorn Jr. of Jacksonville, Fa., and Larry Eichorn of Reno, Nev.; and several nieces, nephews and cousins.
He was preceded in death by his parents; and an infant brother, Darrell Lee Eichorn.
The family will receive friends and relatives from 10:00 to 11:30 a.m. Saturday, Dec. 28, 2019, at Sturgis Church of the Nazarene, 70031 S. Lakeview Ave., Sturgis.
Services celebrating the life of Jeffrey Dean Eichorn will be held at 11:30 a.m. Saturday, immediately following visitation, at the church, with the Rev. John Shoup, officiating. Interment will take place at Locust Grove Mennonite Cemetery.
His obituary is also at www.hackmanfamilyfuneralhome.com, where personal messages of support may be left for the family.