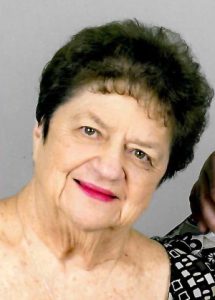 Joan A. Roesener, age 85, of Constantine, died on Sunday, December 29, 2019 at Borgess Medical Center. She was born August 18, 1934 in Mishawaka, a daughter of Edward and Ernestine (Erbe) Schmidt. On January 4, 1952 Joan married Herbert Roesener in Norfolk, VA. He preceded her in death December 27, 2014.
Joan worked in the fiberglass industry for various companies including Acker Plastics and Don Acker. She also worked as an aide in the Hospital operating room. She was a member of the COA, Kitchen Band, Anglemyer's Tae Kwon Do and enjoyed playing cards with the widows club. Joan was known for her beautiful cake making.
Surviving are her daughter Cynthia (Ken) Anglemyer, Constantine, grandchildren Kristi (Matt) Lusk, Ken (Rebecca) Anglemyer II, Dustin (Danielle) Roesener, Billy (Jennie) Roesener, Greg (Rejeanna) Roesener, Scott Roesener, Joseph Roesener. and Christopher (Rebecca) Roesener, great grandchildren Tre, Bryce, Kairi, Kohen, Juno, Kaleb, Christopher, Kaley, Wyatt, Rees, Ambrosia, Quinten, Ariel, Noah, Christian, Thomas, and Nathanial.
Joan was preceded in death by her parents, husband sons William Roesener, Thomas Roesener, brother Robert Schmidt and sisters Norma Hein and Louise Signorino.
Relatives and friends will be received at the Eley Funeral Home in Constantine on Thursday from 4 to 7 pm. Religious services will be held Friday at 11 am at the funeral home, with Pastor Thomas Short, Elkhart East Christian Church officiating. Burial will be in Plum Grove Cemetery.
Memorial contributions may be directed to Elkhart East Christian Church. Online messages may be left for the family at www.eleyfuneralhomes.com.